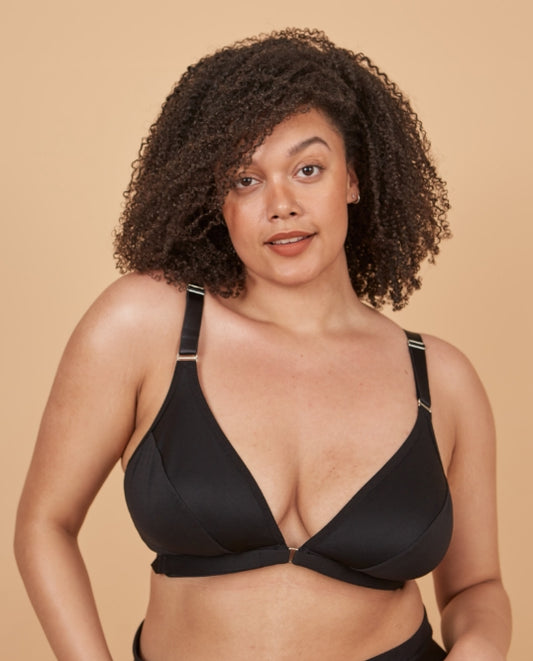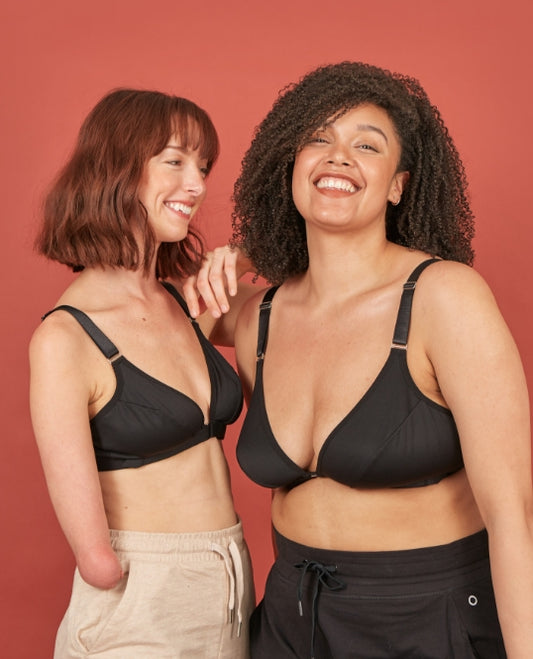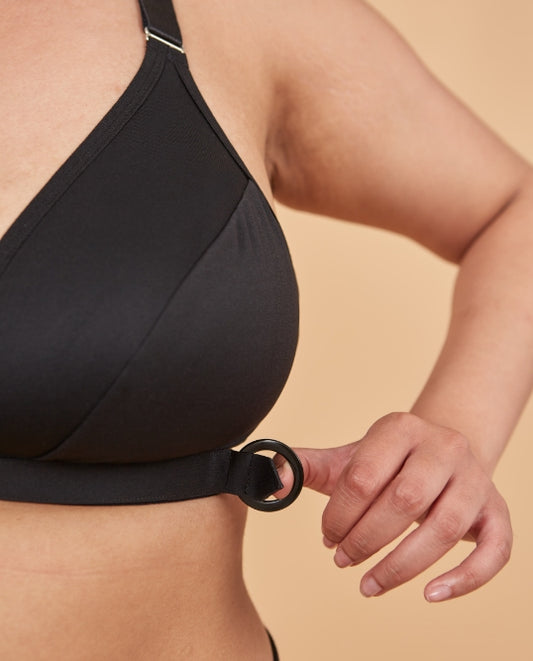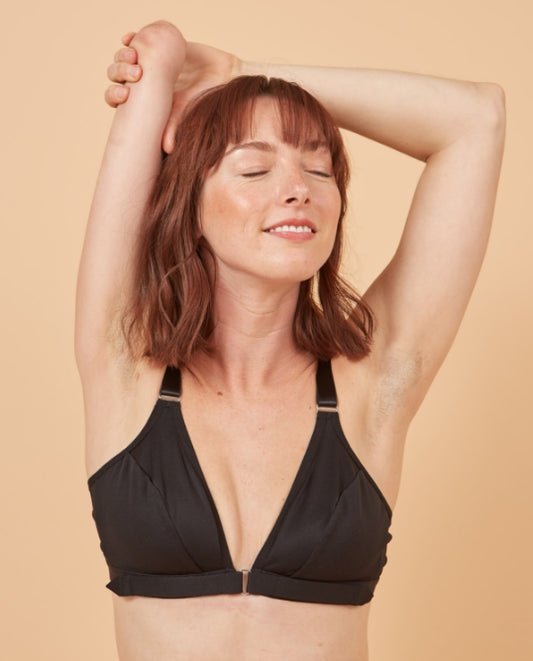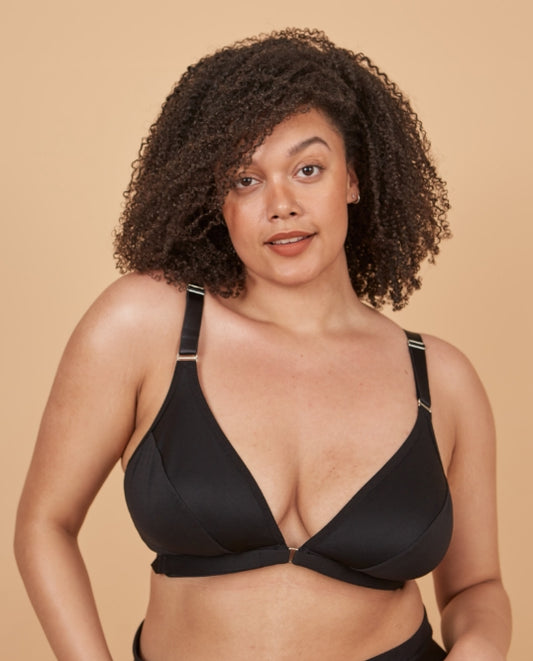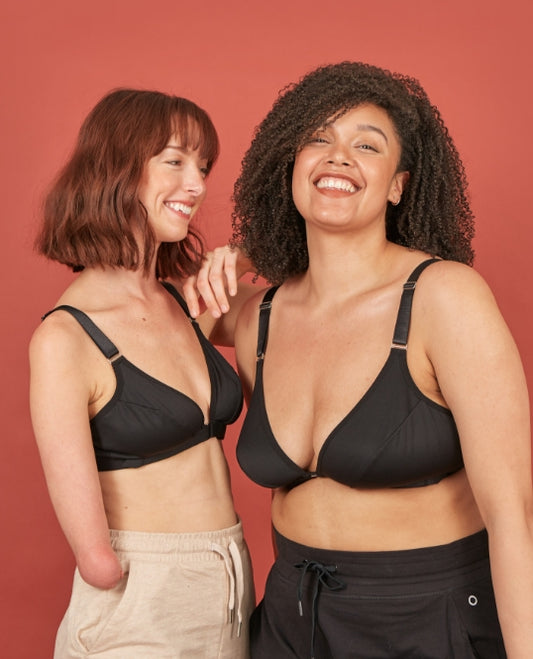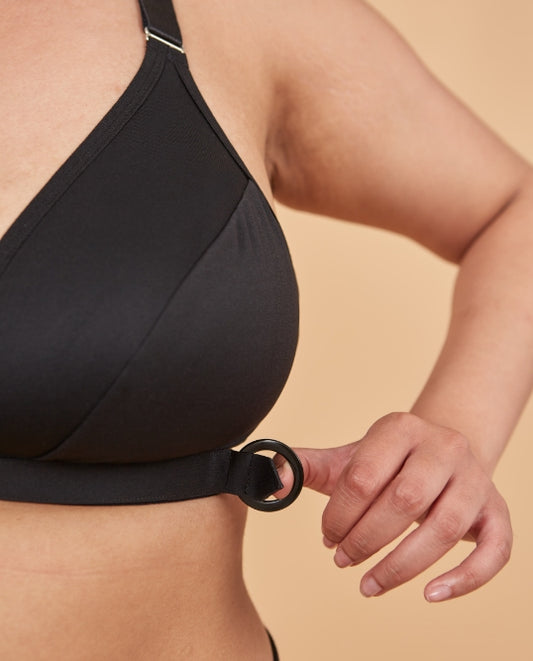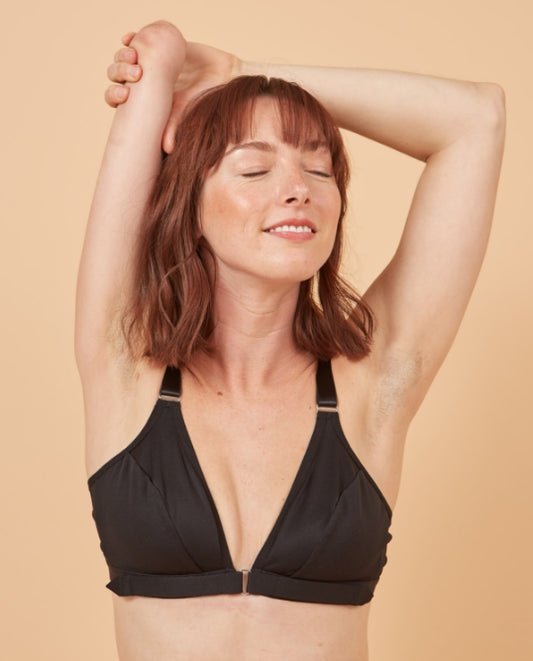 Black: Elle has EDS and POTS and is wearing a 36-38 DD-F
This front-closing, wireless bra is soft, yet supportive and can be put on multiple ways to adapt to your dressing needs. Designed with thoughtful features to make getting dressed a breeze.
The Springrose Plunge bra has a patent-pending combination of functional and comfort features designed to increase independence
Wireless band with wide sides for extra comfort

Wide straps to reduce spot pressure

Velcro® hook and loop front closure for ease of wear

Cushioned back closure for band adjustability

Optional o-ring for enhanced dexterity

Magnet free and pacemaker safe

Front-adjusting straps for trouble-free tightening

Sizes 32B to 46F for your perfect fit

Buttery soft fabric to protect sensitive skin

OEKO-TEX® STANDARD 100 certified fabric 

Nickel-free hardware for a worry-free experience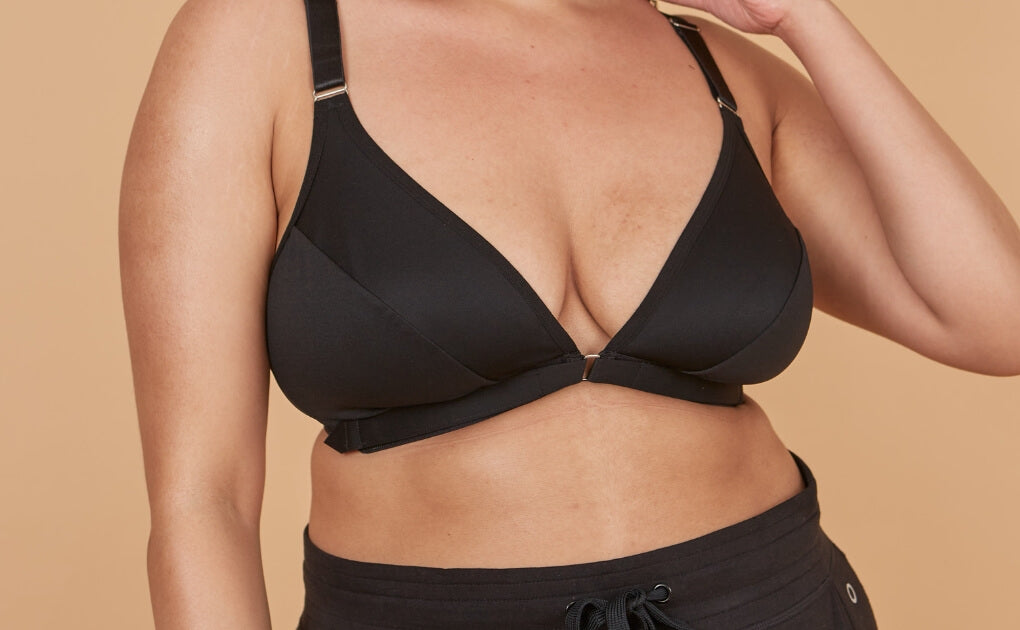 Overhead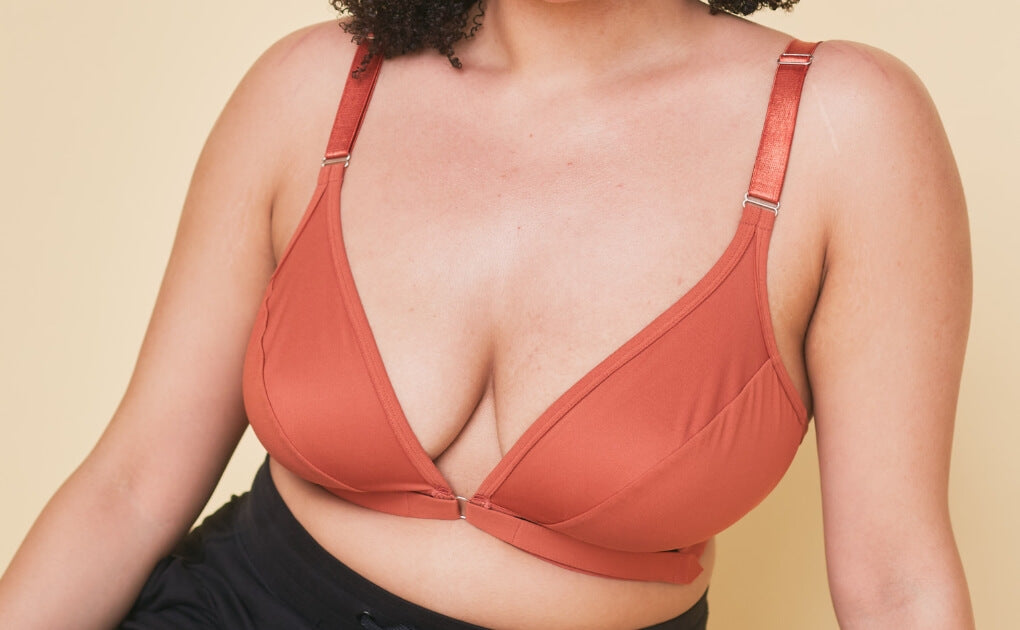 Stepping In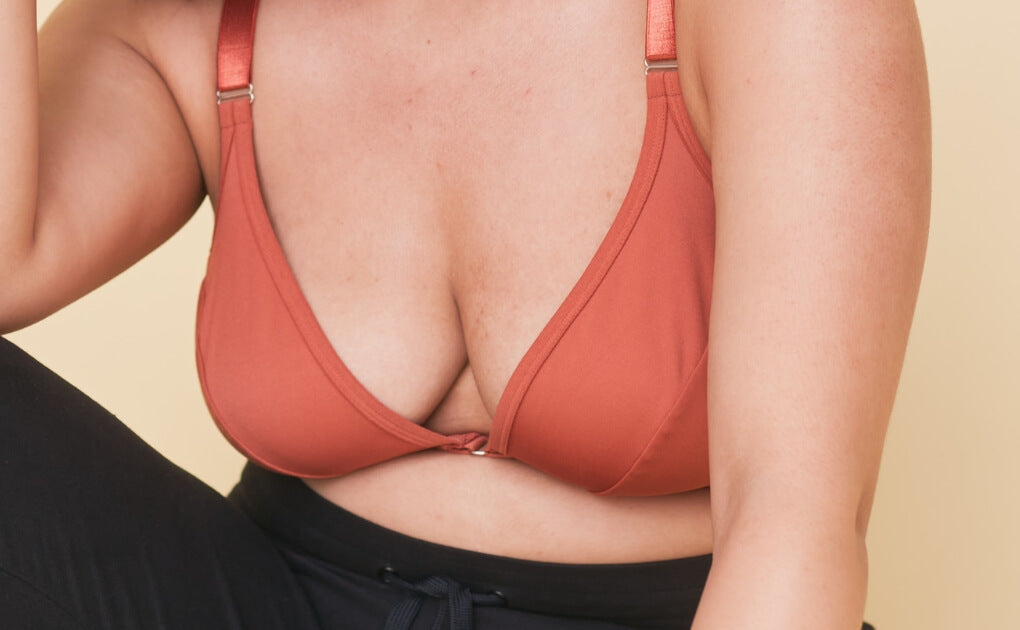 Up and Over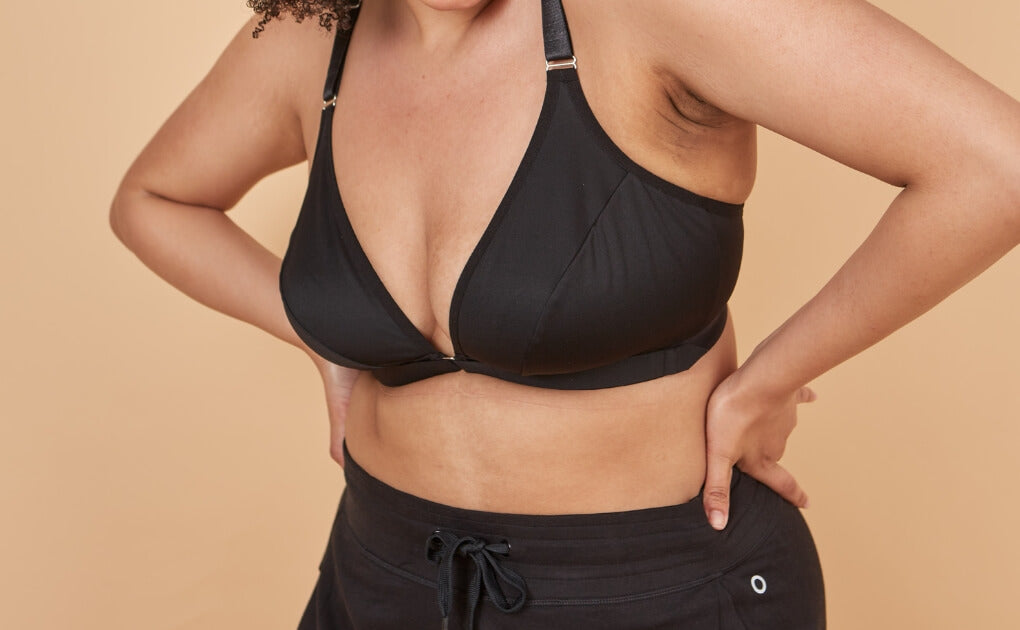 Low Vision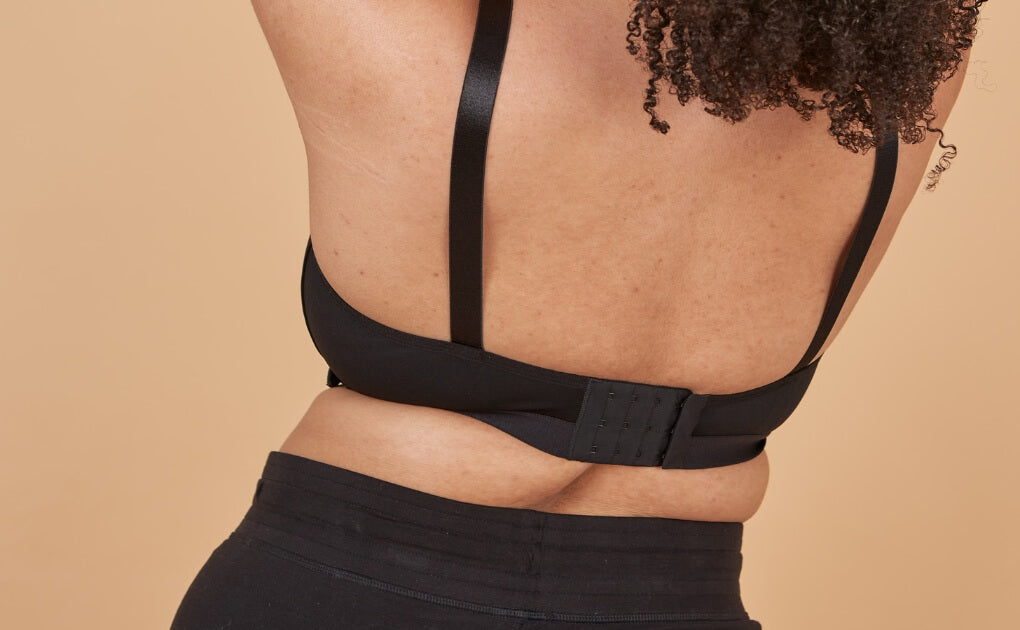 Around the Waist
One Handed
Fabric:

Elastane and nylon blend
Washing Instructions:

Close Velcro® hook and loop before washing.

Hand wash with a soft soap and let air dry. Keep in the shade. If hand washing is not possible, machine wash cold in a gentle cycle.

Do not bleach.

Do not wring.

Do not iron.
Shipping
Free shipping on all orders within the US.
Returns & Exchanges
Exchanges & returns are free.
Returns and exchanges are accepted within 30 days of purchase.
Products must be unworn, undamaged, and unwashed.
We are committed to the quality of our products. If you receive a garment that is damaged due to a manufacturing error we will replace it. All replacements are at the discretion of our team.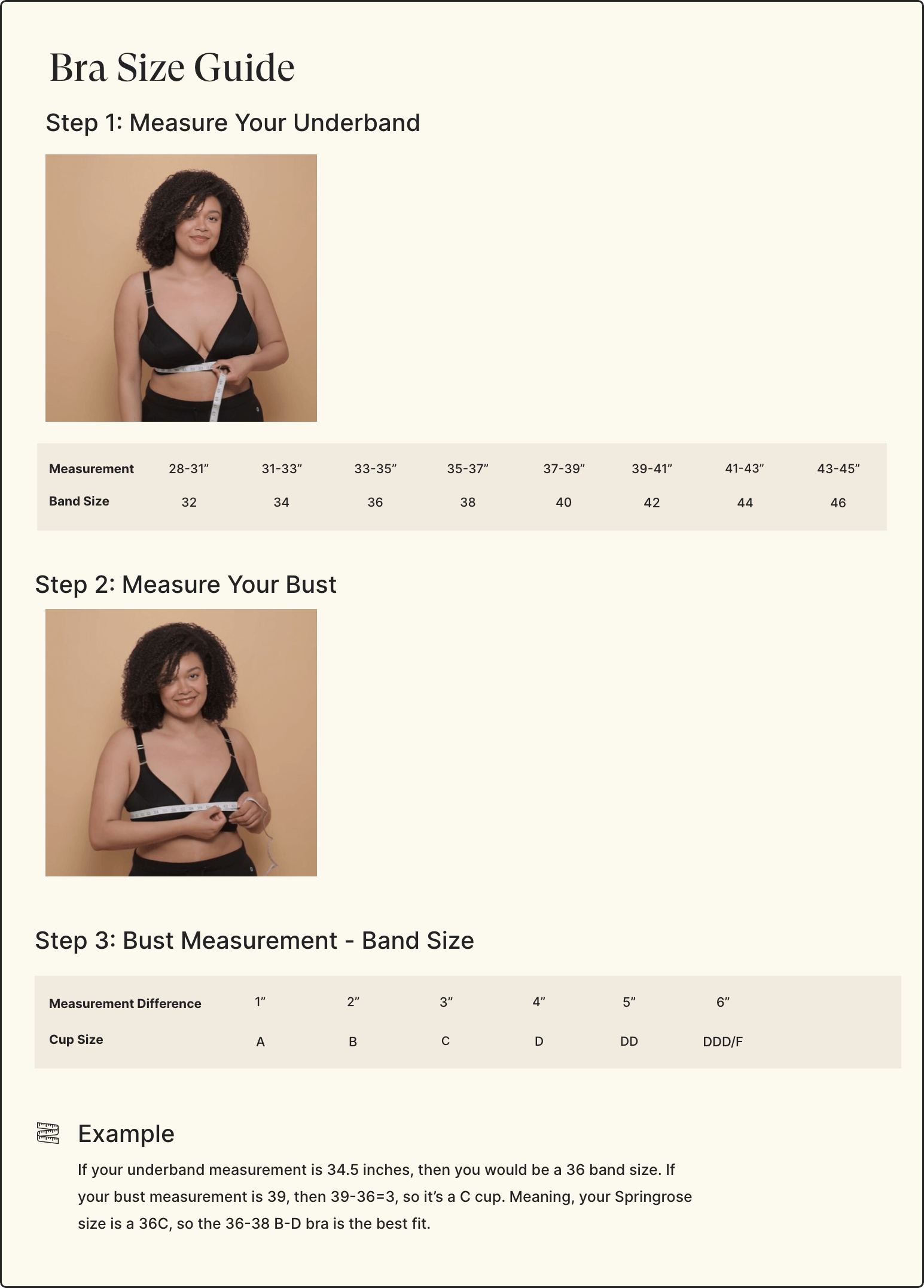 As crummy as I felt yesterday, the ease of taking the bra off was welcomed!
Pamela, 36D
I don't feel like I'm wearing anything, I'm so comfortable.
Libby, 32C
I don't even feel it on me. You could go the entire day thinking you're not wearing a bra.
Cheryl, 34B
It's comfortable, soft – I love the material.
Marie, 40D
This feels amazing. It's comfortable, it keeps the girls up, I love the color. I could go to sleep in this, it's so comfortable.
Dylan, 46F






Total 5 star reviews: 5
Total 4 star reviews: 0
Total 3 star reviews: 0
Total 2 star reviews: 0
Total 1 star reviews: 0
100%
would recommend this product
Comfort
Rated 5.0 on a scale of 1 to 5
Ease of Dressing
Rated 4.8 on a scale of 1 to 5
Support
Rated 4.2 on a scale of 1 to 5
My new favorite bra!!

As an adult with hemiplegic cerebral palsy, I have been searching for a bra that is easy to put within my range of motion. I can finally say that I have found it here at Springrose! There are so many different ways to wear the bra, and it can be worn in almost any setting (casual, business attire, date night). Having the adjustable straps in the front is a life saver, as well as the velcro along the bottom. I'm so happy I decided to take the leap and buy this bra!!

CL

2 days ago

So comfortable!

I love how comfortable the fit is! Looking forward to buying a second one.

Must have for chronic pain days!

This is an absolute godsend. The fabric is comfortable and gentle on your skin (anyone with chronic pain knows that during a bad flare, the slightest discomfort can be excruciating). The velcro closure on the front not only makes taking the bra on and off the easiest thing on earth, but makes it easy to reach under and loosen during the day with minimal effort. I don't normally wear a bra working from home because the inevitable discomfort and over sensitivity mean it isn't worth putting it on just to struggle taking it off- I've worn this consistently every day I've worked from home this week and never felt the "bra fatigue" I normally do. Absent a slight muscle memory adjustment period of learning to put it on in the front, this is the most low maintenance and accessible piece of clothing I own now, and saves me a lot of pain in the mornings when my arthritis is the worst! I realized I need to size up cup size because I ordered the smaller one by accident, but that's the only reason support is lower, and I'm sure the correct size will be perfect!

MD

2 weeks ago

So happy with my purchase!

I've NEVER made peace with the fact that I am a BIG woman, who was raised on WIRED bras! They hurt and they can be tricky to keep properly "filled." This bra is different! No wires. No pain. No complicated, bullet proof design. It's perfect. So, now, at 54 with Fibromyalgia and 2 family members depending on me for their care, finally, simply putting on a bra, is no longer on my list of daily difficulties. I've even purchased one for my mother; it's kind of a full circle moment. She bought my first bra and, now, I'm returning the favor. I know, for a fact, she's getting the better end of the deal!

Awesome Bra!

This front close bra is totally awesome! Whoever designed it is a GENIUS!👍 I have rotator cuff surgery coming up and I looked all over the Internet and Amazon, but could not find any truly adaptive "one handed operation" bra. No such thing existed till I accidentally came across this site.

Even front close bras like the one made by Bali, is still basically a two hand operation.

This Springrose bra is truly a Godsend as when I tried it on for the first time, I knew it was a WINNER!🤗🤗🤗 It was so easy to put it on with just one hand- just slip one side of the bra onto your injured arm first, put your other arm into the second side of the bra, thread the Velcro strap into the ring and pull the Velcro strap and fasten onto the opposite side. (Watch the web site video on using the one hand method.)

If you can't turn your arms behind your back to fasten the hooks like those in a traditional bra, (like me, due to pain from the shoulder), you'll find this bra eliminates that problem easily. Depending on your situation, this bra is so versatile that there are 3 ways to get it on. Choose which method is best for you!

Hands down! You won't find any type of adaptive bra with this unique design. Buy it- you won't regret your decision! 😉👍

P.S. Customer service is EXCELLENT!
Reviews Loaded
Reviews Added